The Dale County Sheriff's Office Aviation Unit was formed in the mid 1980's. The Aviation Unit has a 4 aircraft consisting of 2 OH-58 helicopters, MD 600N and a Cessna 182RG airplane.
In 2002, the Aviation Unit acquired an OH-58 Ranger from the U. S. Department of Defense. Over the next several months, the Vietnam-era helicopter was repainted and fitted with police equipment.
The OH-58 model is the military version of the most popular civilian helicopter in the world, the Bell Jet Ranger. It is capable of carrying four people and is powered by a single turbine engine. Its top speed is approximately 120 knots per hour and normally cruises at 90 knots with an endurance time of 2.5 hours. Over the last several years, a fifteen million-candle power searchlight and Forward Looking Infra-Red (FLIR) were installed on the aircraft, giving the crew the ability to search areas in total darkness. The aircraft is also equipped with technology to locate Alzheimer's patients or "wanderers" as part of Project Lifesaver.
Grant funds have enabled the Aviation Unit to acquire state of the art equipment to assist them in missions involving the aircraft. This equipment includes: FLIR, moving maps, a glass cockpit, microwave downlink, and
night vision goggles
.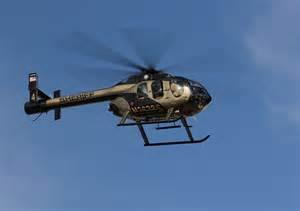 The Dale County Sheriff's Office Aviation Unit is part of the Regional B
Response
Team
for the Department of Homeland Security. In the event of a large scale disaster the aviation unit can responded state-wide to provide assistance to the affected area.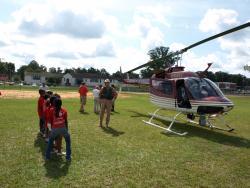 In 2014 the Dale County Sheriff's Office partnered with the Houston County Sheriff's Office, Dothan Police Department, Enterprise Police Department and the Ozark Police Department to form "W.A.S.P." or the Wiregrass Aviation Support Program. "W.A.S.P." pools resources from the different agencies to perform search and rescue operations, surveillance, prisoner transports, patrol flights, drug eradication and other functions to the Wiregrass area.